Body
The excitement for Student Vote Canada 2019 is real! With over one million students participating over all 338 ridings, it's the largest simulated election in the country. From October 15 to 18, youth will experience the election like never before.
This is what you need to know about the 2019 national edition:
1. Experience the federal election
Students will vote for the same candidates as their parents. Participating schools will dive into current Canadian politics so that students learn more about the electoral process, democracy and the political candidates in their riding. The highlight of the program will be the simulated election, when students vote for real candidates. The national results will be counted and announced to the public.
You can also compare results between schools!
2. It's for all students
Student Vote is for students from grades 4 to 12, or Secondary 5. Its content can be adapted to different age groups.
3. Registration is FREE and still open
You have until September 30 to register your class or school.
Remember: The more, the merrier! Invite your fellow teachers to join in and register several classes in your school. Not sure if your school is already registered? Don't worry! Contact CIVIX to confirm, or register your class directly online.
4. You'll have everything you need
Once your class is registered, all the material you need will be sent to your school in paper and electronic versions:
Election kit (ballot box, voting screen, ballots, etc.)
Teaching resources (lessons, videos, interactive tools)
Posters
The teaching resources were developed in cooperation with Elections Canada and can be adapted to your lesson plan and needs. They are also available online.
5. It has positive impacts … even on parents!
The parents of students who participated in the past confirmed that Student Vote had a positive impact on their own decision to vote. Two birds, one stone!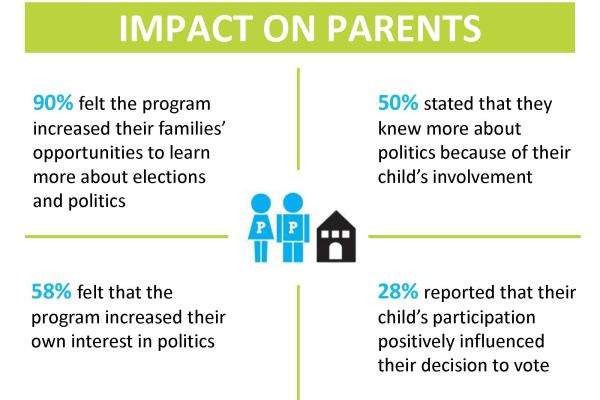 To learn more about Student Vote Canada 2019, click here.