Header Image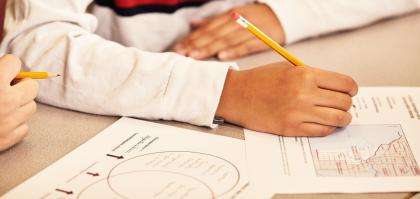 Body
Finding age-appropriate resources for language learners can be difficult. To meet that need, we offer literacy support throughout our resources, from relevant pedagogy to language learner versions.
In our resources, you'll find strategies that support all learners, including sentence stems (instead of questions), helpful vocabulary lists and graphic organizers to scaffold the learning. They are designed to support your students in second-language conversations and collaboration.
Some resources can easily be used regardless of literacy levels. For example, the Election Simulation Toolkit provides an opportunity for students to practise writing and oral communication skills at any level.
In other resources, students can engage in inquiry without doing a lot of reading and writing. For example, Geography of Elections, Elections by the Numbers, and Mapping Electoral Districts invite students to complete different types of analytical activities that support literacy and numeracy: they interpret information on maps and graphs and represent data in infographics, Venn diagrams or maps.
Some resources require a bit more active support. For example, the authentic media texts that students explore in Digital Skills for Democracy can be challenging for language learners. To make them more accessible, you could have all students examine the same scenario and pre-teach any vocabulary that they might need to understand the text.
Finally, three of our educational resources are available in language learner versions. They:
use fewer words;
contain simpler sentence structures;
have shortened activities so students can achieve the same learning outcomes.
Students can engage in a mix of reading, writing, and oral communication in the language learner version of the following resources:
Our resources support your language learners in many ways. Let us know how you've been using our resources to meet your students' literacy needs on Twitter or Facebook!